GTA Online's newest update brought us a lot of new features. Named Gunrunning, you can now own a bunker, anti-air vehicles, mobile operations center (basically a big ass truck with a mod shop for your new military vehicles and a mission control panel and it's also equipped with cannons) and my personal favorite, a flying motorcycle.
Let's have a look at the bunker first.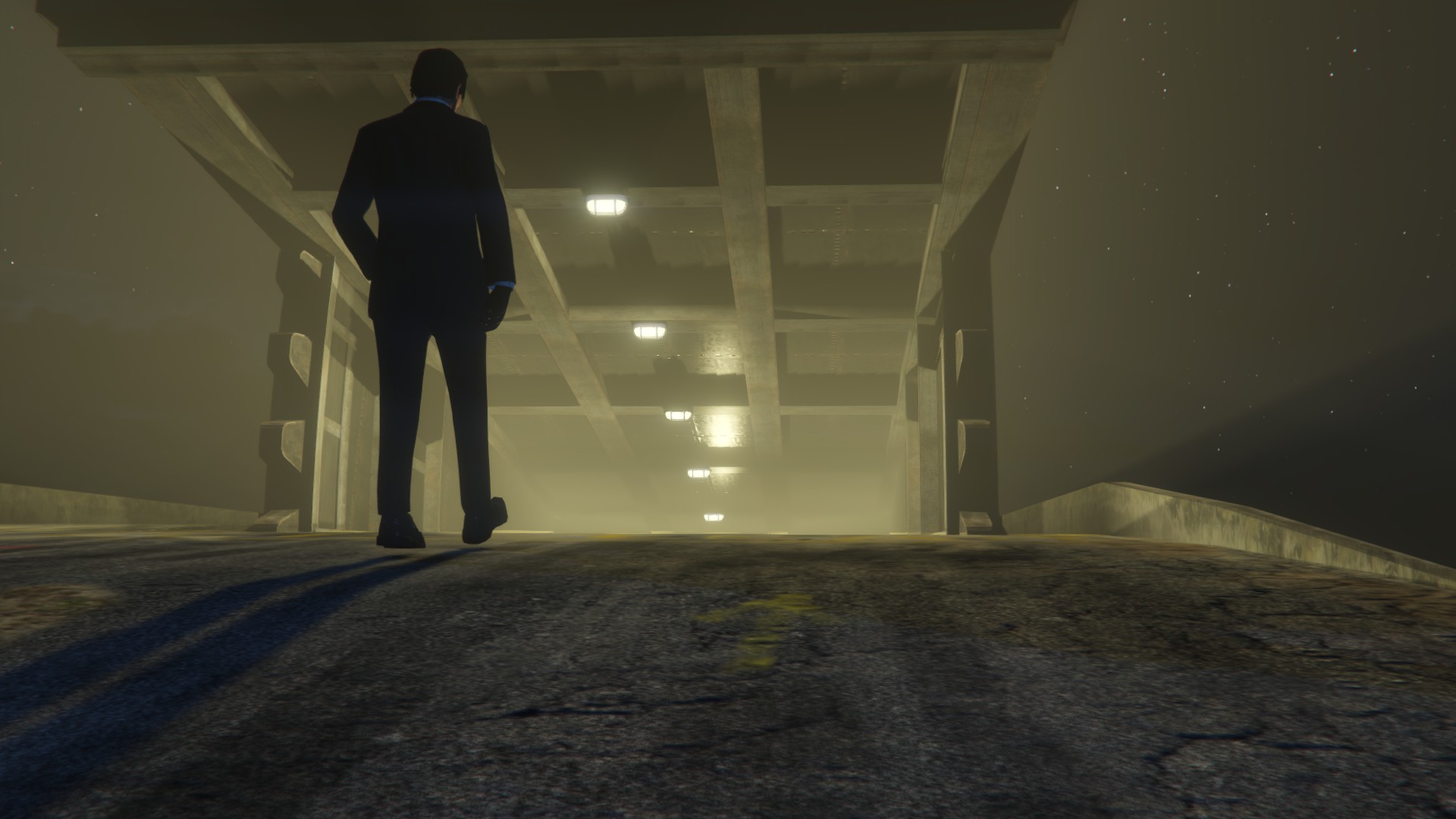 There are several bunker locations, located all around Los Santos. All of them are located outside the actual city. The entrance of the bunker is closed until you walk close to it, at which point it will rise from the ground, as seen in the image above. You can drive any vehicle you own there (I have not tested it with special Pegasus vehicles like Rhino or Marshall and other large vehicles). The bunker houses your Mobile Operation Center though, so it's safe to assume that the special vehicles would fit in there, I just don't know if the game allows that.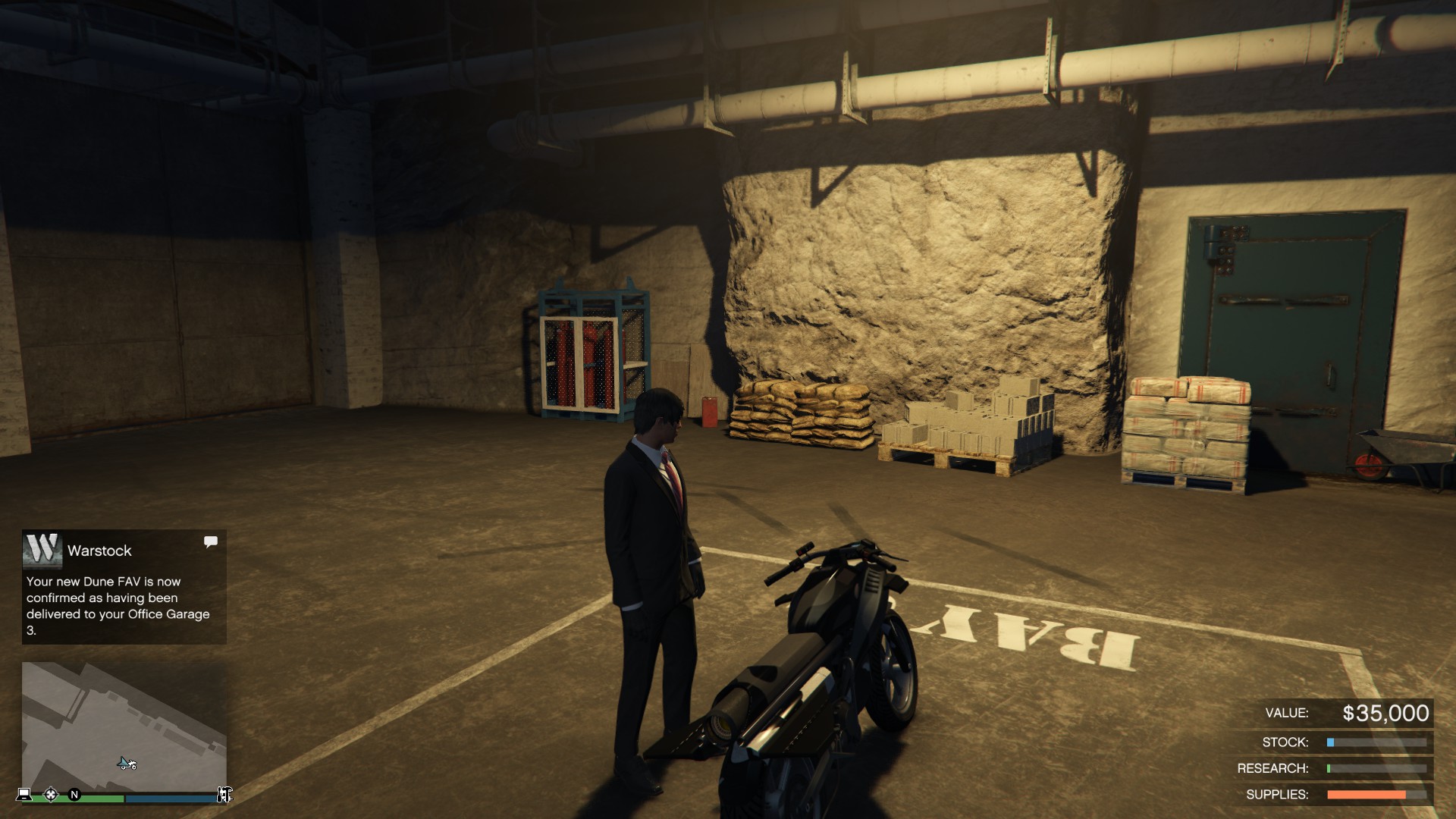 The bunker can be customized with 3 different styles. It's really big, and I'd even go as far as saying it's a maze. I got lost quite a few times there at first.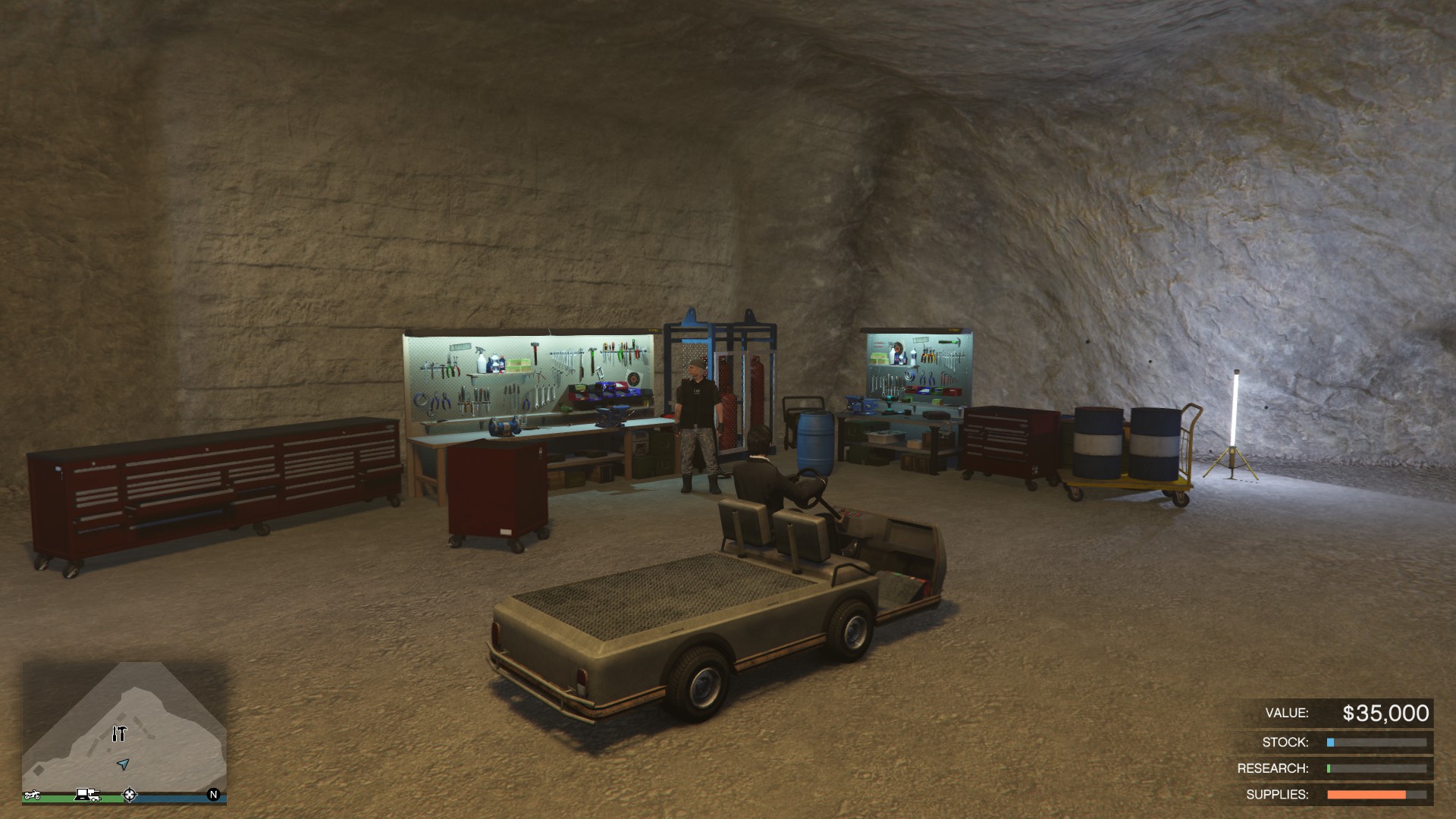 You can drive around the bunker using these little vehicles. Of course they are an extra option once you buy them, so they aren't mandatory. In fact, the cheapest bunker, if you want all the modifications, is around 3M GTA $. You also have a gun range inside the bunker, with 2 color options available for the targets (black and white).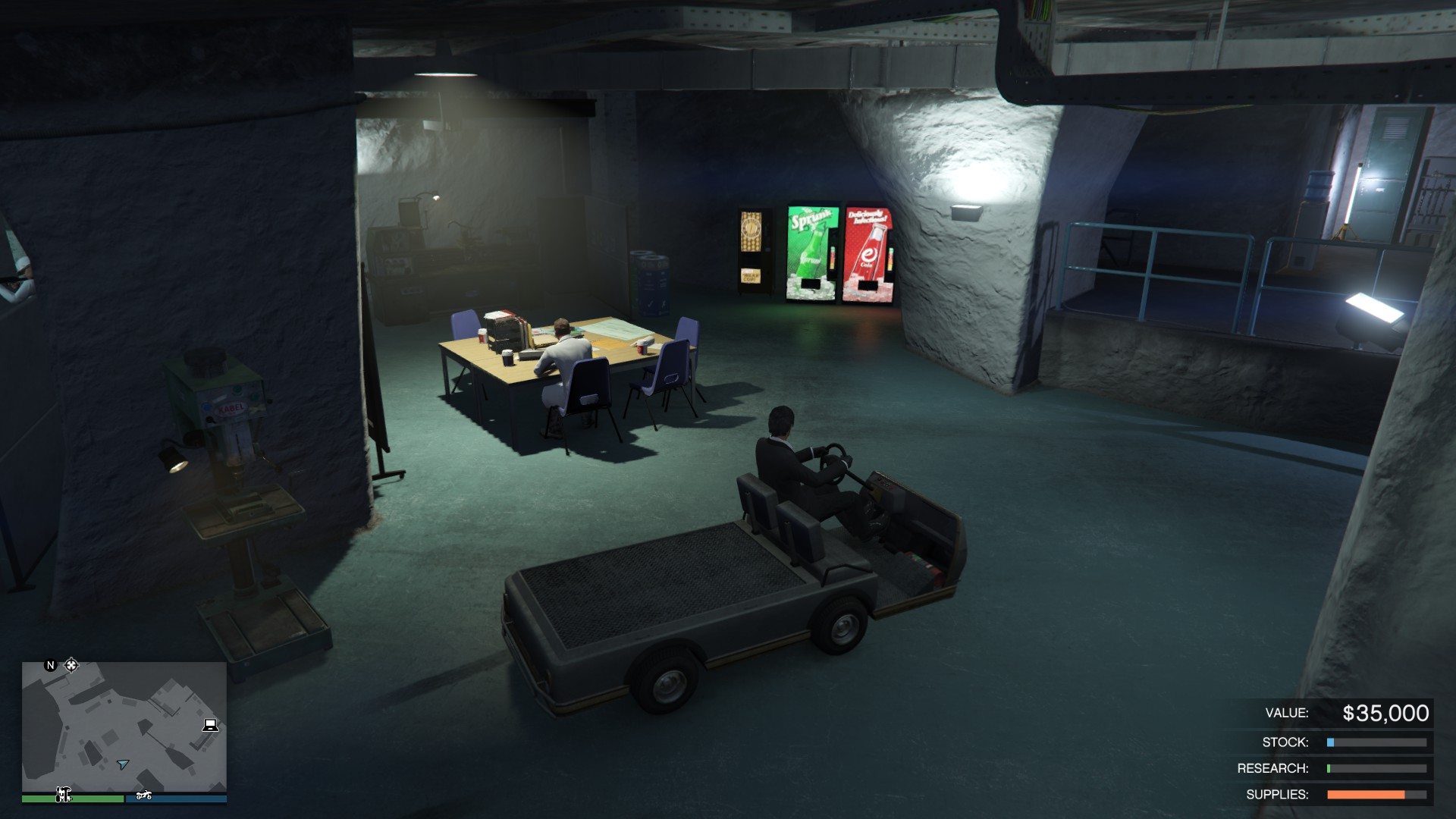 The bunker has multiple AIs working for you, and you can dictate what they are focusing their efforts on. There are 3 options, the gun market, where they make you guns, the research, where their efforts are directed at making you deadly vehicle modifications, like SAM for the new Gunrunning version of the Tampa. The third is both, but with that the progress for both is incredibly slow.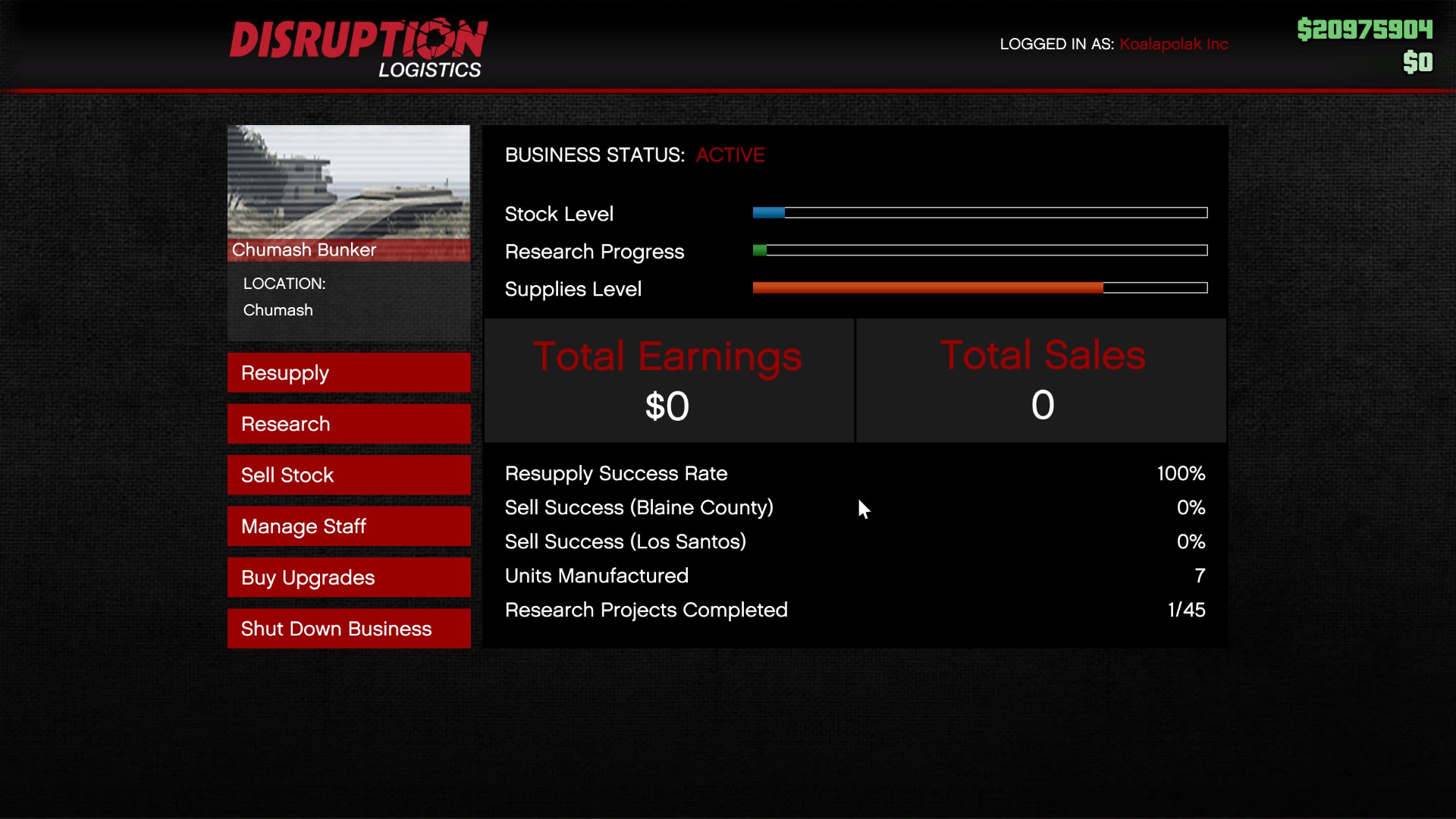 You control your operations via a laptop, much like with Vehicle Warehouse. You arrange supplies using your laptop, you control your employees, you can control research through it, sales and you can even shut down the business.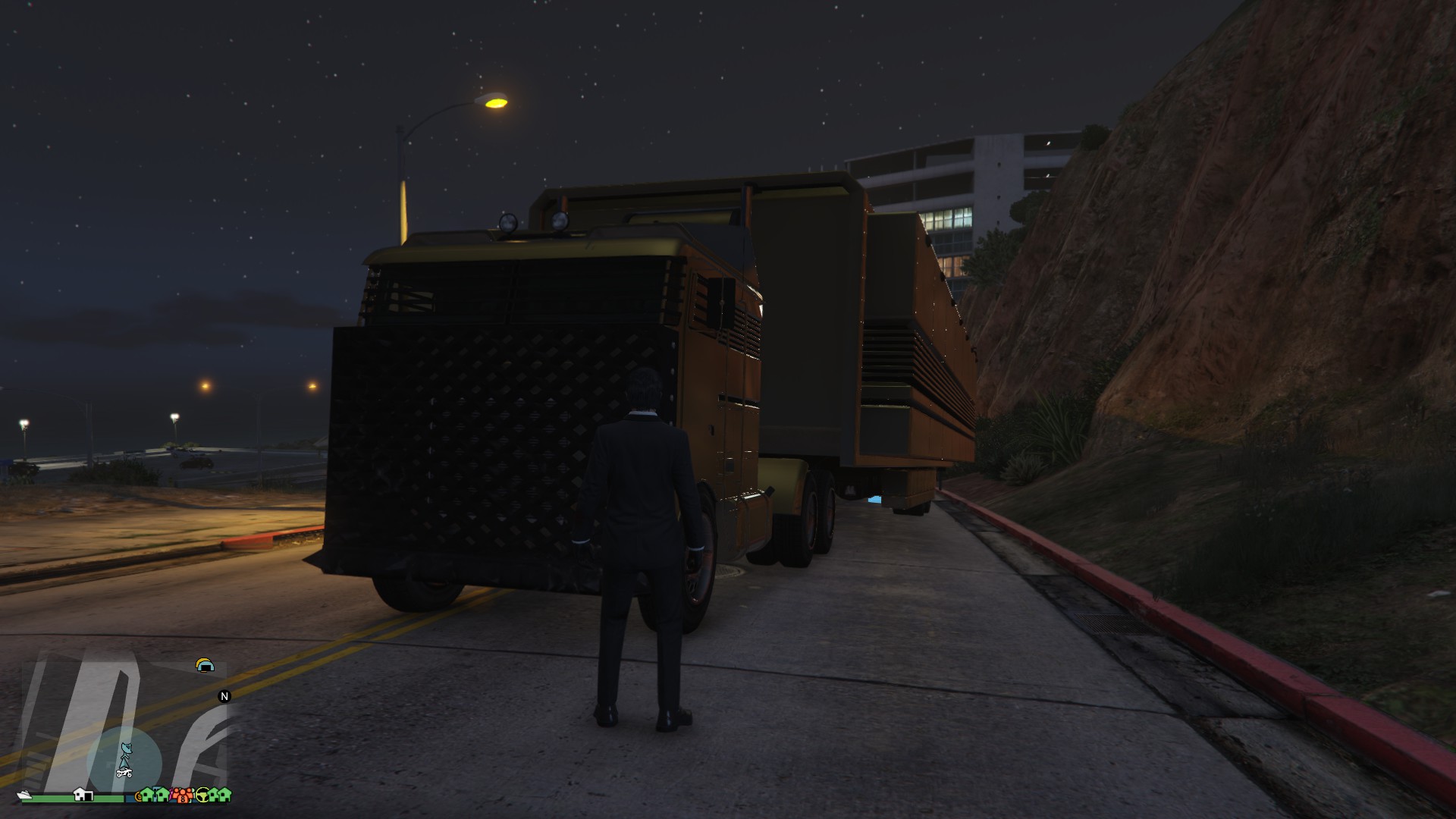 The mobile operations center is a HUGE truck, and it's also fully customizable via your Bunker's Modification Station. It has cannons, which can be controlled through a high-tech room inside the trailer, like seen in the picture below.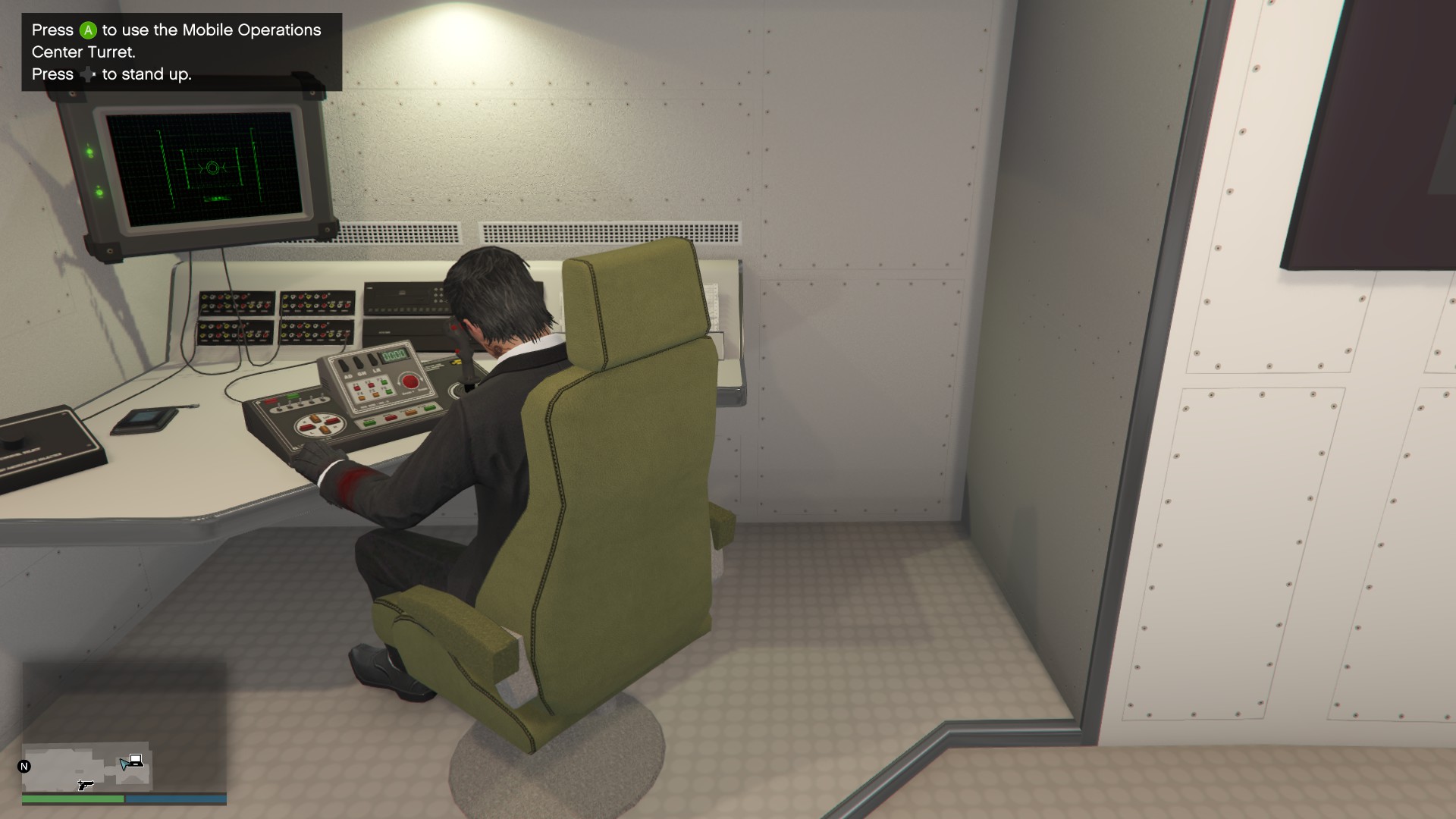 The trailer also has a bay for your new Gunrunning vehicles, where they can be fully customized. Some modifications are locked though, and need to be unlocked via Research.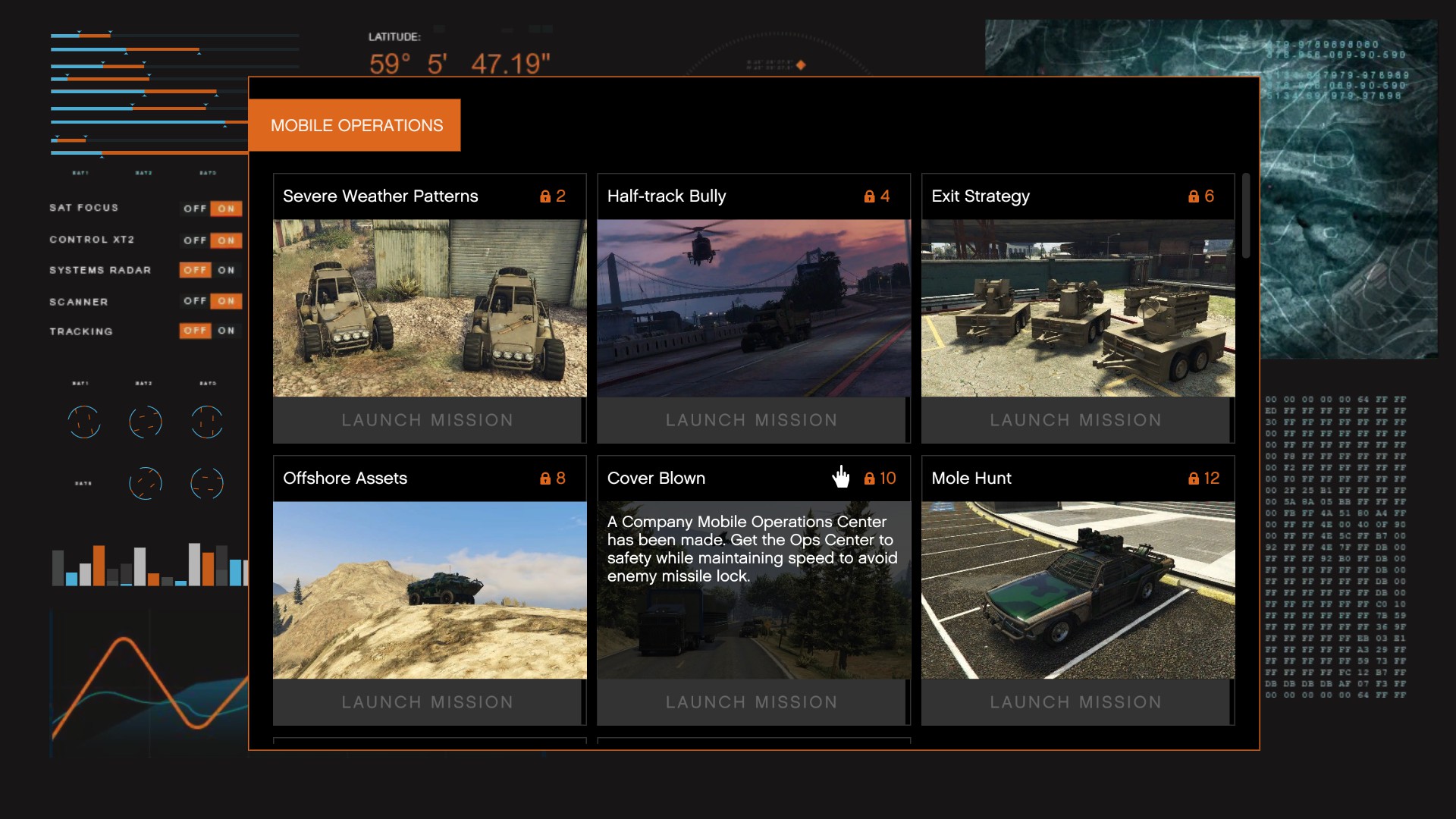 The truck also has a wall-mounted display, through which you can initiate your special missions for Gunrunning, gaining discounts for the new vehicles after you've completed them.
But my absolute favorite of the new vehicles is the flying motorcycle. It also has a machine gun, which can be upgraded to a rocket launcher via Research.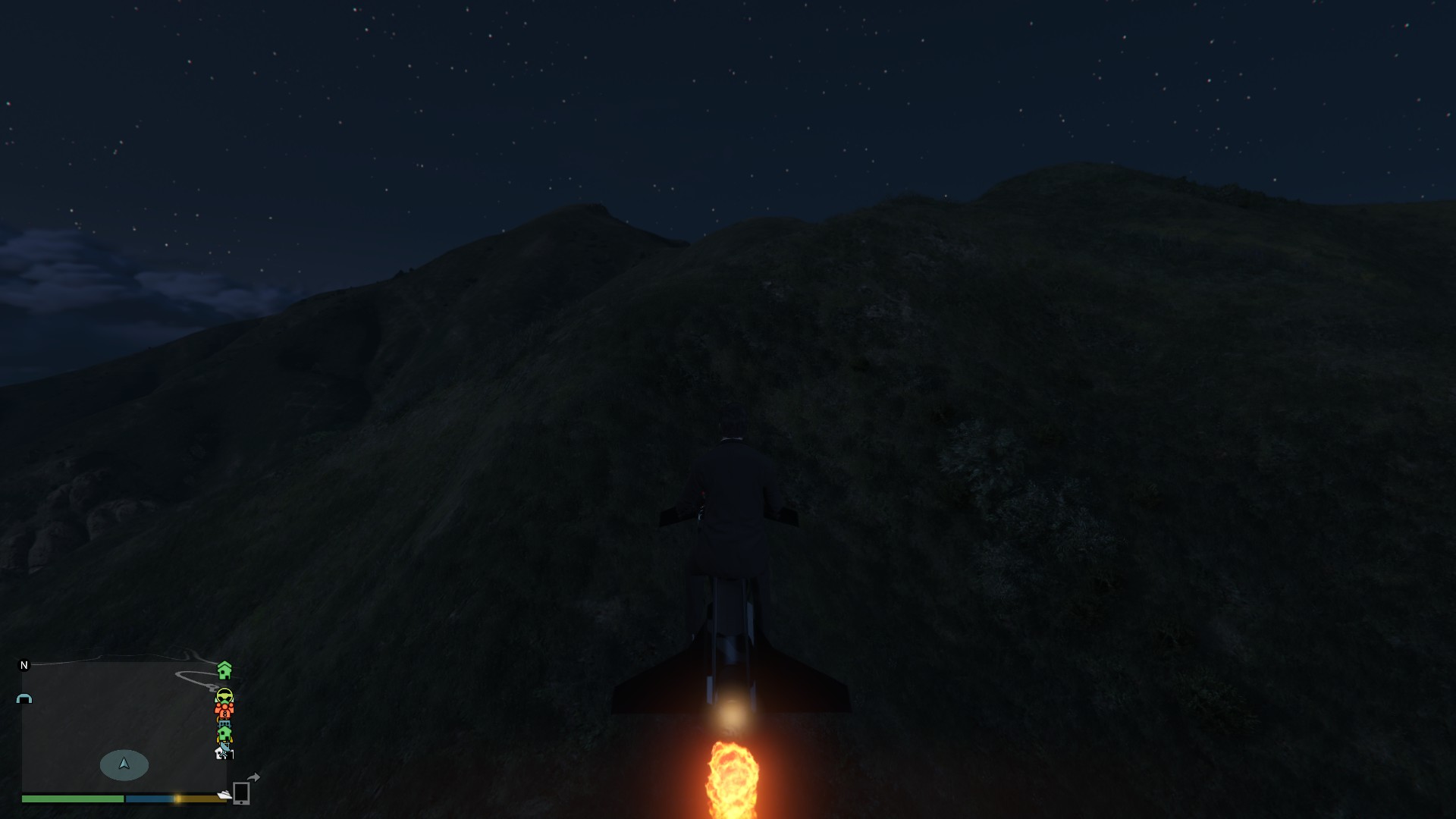 The image is a bit dark, but as you can see, it's propelled by a rocket motor on the back. It can only be fired once, after which you need to touch the ground for it to start recharging. The bike however doesn't need it, because if you drive fast enough, you can still just pull the nose up and it will fly because of the retractable wings the bike has. However, it will fly higher and longer with the rocket motor.
The longest distance I've flied using the bike was from the Military Base to the downtown of Los Santos.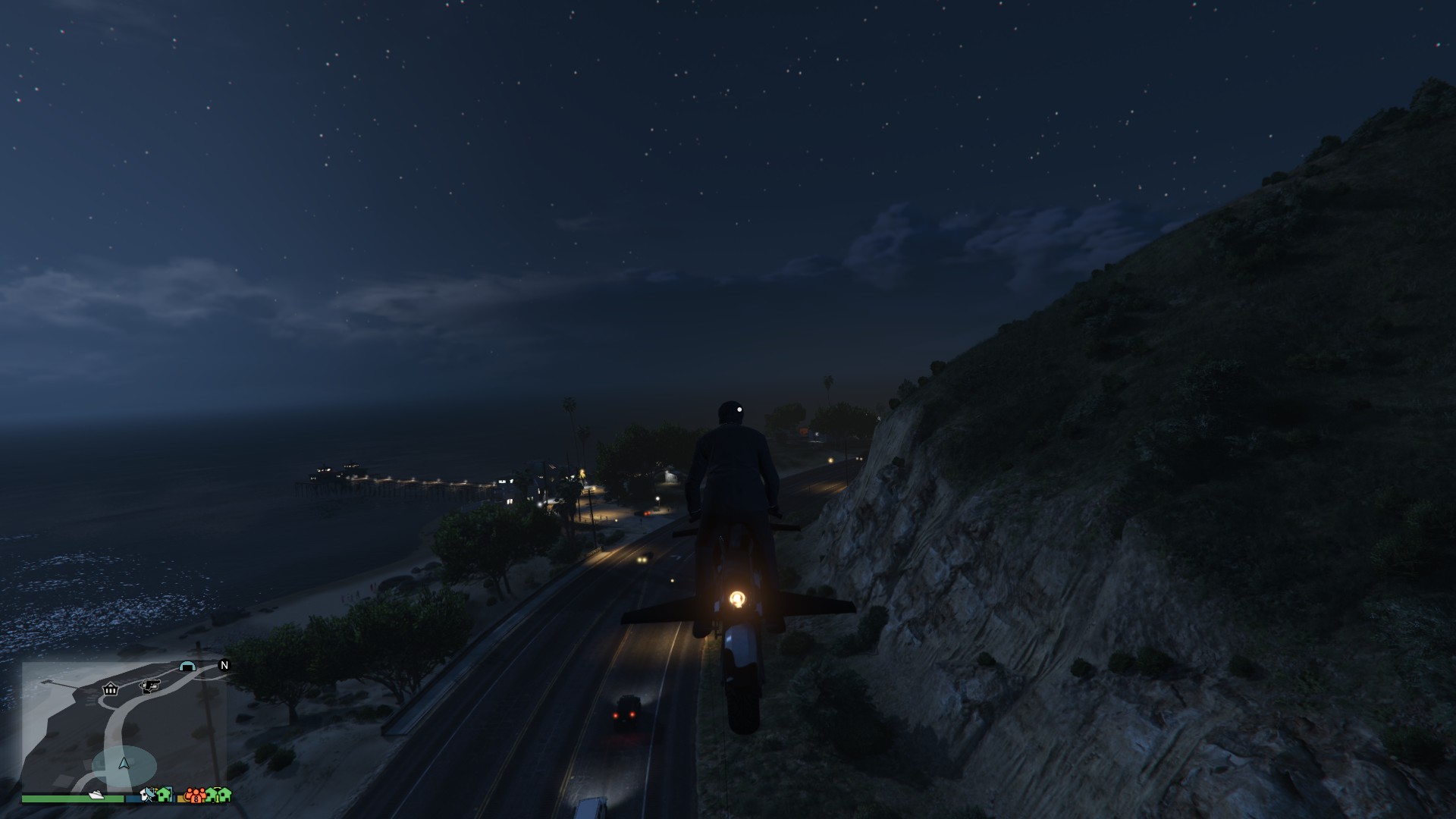 The bike can be easily controlled mid-flight, and if you have taken off without using the rocket motor, you can launch it mid-flight, but only once without touching the ground.
The full list of vehicles can be found on Warstock in-game.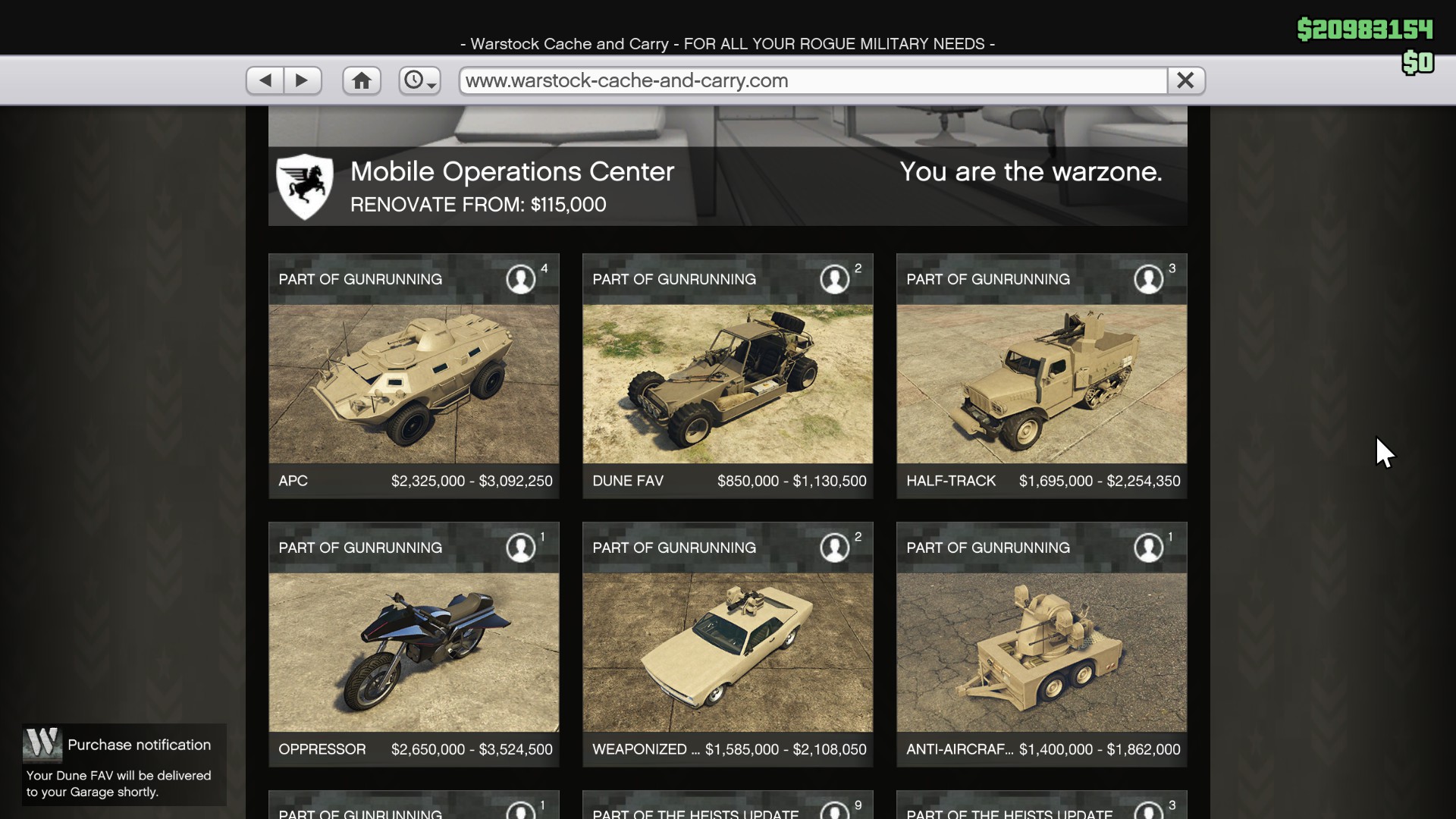 The APC is amphibious, capable of going on water and on land. The bad thing about all of these vehicles is that you cannot use the weapons alone. You need a friend all the time to take care of shooting, while you drive. Of course, it also works the other way around, and if you don't mind it, you can remain stationary and use the guns yourself.
I guess that's it then. Don't forget to share your opinions in the comment section below. Good, bad, anything. And if you have questions about the new DLC, you can ask me.